Official Title: Suika A.S+
Released: 2004-09-24
Translated: 2009-04-25
Company: Moonstone & Circus
Translation Company: MangaGamer
SUMMARY
In a place surrounded by mountains and the ocean lies Tokiwa Village, the "unchanging" village. Yet summer still comes, even to this "unchanging" village. Then one day, a nameless girl ran through the village, ringing the little bells that hung from her hat, and the red strings of fate became entangled……
Chapter 1
—————————–
Chapter 1's Heroine: Itsuki Minase
Itsuki's Twin Sister: Sayo Minase
Tokiwa Village was a place filled with memories for Akira Kazama. When he finally returned with his mother, he decided to pay a visit to the shrine. There he was reunited with Itsuki Minase, and memories of his past come flooding back to him: Itsuki, her twin sister Sayo, his encounters and his farewells with them. As the past and the present blend together, what fate lies ahead?
Chapter 2
——————————–
Chapter 2's Heroine: Sayaka Shirakawa
Her Energetic Friend: Emi Wakabayashi
Sayaka Shirakawa's father is a painter, but the villagers consider him eccentric and keep their distance. To her, Souji Kamishiro was the one person she could open up to. Painting with him was her one and only enjoyment. Now she yearns for her deceased mother, rebels against her father and her feelings towards Souji are…
As the sunflowers bloom, their summer begins to fill the blank canvas.
Chapter 3
———————————-
Chapter 3's Heroine: Akane Masaki
Chapter 3's Heroine: Touko Kyouya
Yoshikazu Masaki spent his days with his girlfriend, Touko Kyouya, when something began to feel wrong. He didn't know what it was, but it had something to do with his younger sister, Akane Masaki. Although he underwent counseling, it became a darkness in his heart, growing bigger and bigger as time went on. Now, the relationship between these three, Akane, Touko, and Yoshikazu, is heading in an unforeseen direction.
Chapter 4
————————————–
Chapter 4's Heroine: The Girl Without a Name
The Mysterious Girl: Chinatsu
The Terminally Ill Sister: Chitose Inaba
Hiroshi Inaba left home because he didn't want to be tied down with the old family tradition. However, when he heard that his father had fallen seriously ill, he returned to his home town, Tokiwa Village, arriving on the night of the Tanabata Festival. There he met a mysterious girl who held a black stuffed animal. She wore black clothes and a black hat, but couldn't remember her own name. However, as Hiroshi spends more time with her and her stuffed animal cat, Archimedes, who can understand human language, her identity starts to become clearer. Hiroshi's special summer has only just begun.
VNDB LINK
DOWNLOAD
  Spoiler: Download RapidGator 
  Spoiler: Download FileFactory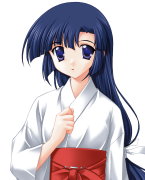 Itsuki Minase
"I'm so glad I got to see you again……"
One letter. Akira Kazama and Itsuki have parted once before. When they said farewell, she gave him a letter. Inside, there was one apology and one wish—can I really make her wish come true?
Birthday: Oct. 17
Hobbies: Reading, Stargazing, Doujinshi (Must be over 18!)
Likes: Her twin sister (Sayo-chan), Animals, and Mysterious events
Basic Behavior: She appears to be docile, but she is actually rather mischievous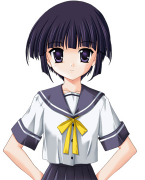 Sayo Minase
Sayo is Itsuki's twin sister. Unlike her older sister, she is very sociable and cheerful. She acts like a big sister to everyone and won't stand for injustice, but she often acts before she thinks. She also held special feelings toward Akira, but……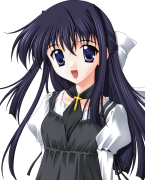 Sayaka Shirakawa
Sayaka is a fine young lady, but because her father is eccentric and paints "death", she is ostracized by the village. While it is a pity she must suffer such misfortune, she's full of emotion and seems quick to anger so they mostly just leave her alone. She is also very quick-witted but she hates studying so her grades are rather low. If she keeps this up, she'll fail so she asks Souji Kamishiro to be her home tutor. She loves scarecrows and jewelry but hates sunflowers.
Birthday: March 13
Hobbies: Drawing, Naps (in a hammock)
Likes: Pumpkins, Scarecrows (strange ones), Long phone conversations
Basic Behavior: She is honest to herself, gets angry easily, and overreacts to things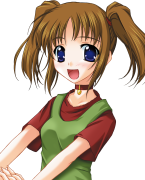 Mie Wakabayashi
Mie has special feelings toward Souji.
She is loud, noisy, and fussy.
She has a sharp tongue and gets flustered easily. She is honest to herself and prone to argue.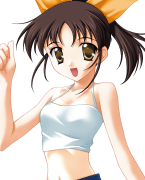 Akane Masaki
"I hate my past"
There are three important things in her life: Touko-onee-chan, her brother, and swimming.
If she loses them all, what I do? What will she do?
Birthday: Sept. 20
Hobbies: Swimming, Martial art (just a little)
Likes: Swimming, To be clingy, Touko and Yoshikazu
Basic Behavior: She always wears a bright smile and expresses herself as openly as she can.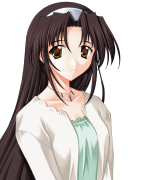 Touko Kyouya
"You are the only one for me, but you are……"
The object of her desire — Yoshikazu Masaki. A feeling of relief. A feeling of conviction. The relief and conviction of knowing that she is loved. She is constantly seeking these things.
—You will not allow anyone else into my heart, will you?
Birthday: Dec. 19
Hobbies: Reading, Indoor activities such as watching movies
Likes: Yoshikazu Masaki, Akane
Basic Behavior: She is always right next to Yoshikazu, even when they take a bath.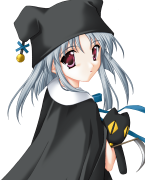 The girl without a name
She is a very eccentric looking girl. Her name, age, nationality are all unknown. However, she seems to be looking for something so she prowls around the village. Contrary to her appearance, she acts very maturely; however, sometimes anachronisms show up in her conversation. For some reason, $1.00 equals 360 Yen in her mind. She also has an unbelievably huge appetite and even grills her favorite, corn on a cob, to enjoy by herself. She can always be found holding her stuffed animal, the cat "Archimedes".
Birthday: Aug. 8 (possibly)
Hobbies: Grilling corn, Hanging Teru teru bozu
Likes: Grilled corn, Steamed rice, Old love songs
Dislikes: Rain, Fireworks (because they disappear too quickly)
Basic Behavior: Although she acts mature, she can be childish at times. She is always curious and hungry so she can easily be lured.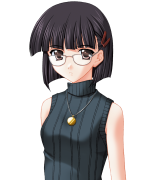 Chinatsu
She has cold eyes, and whenever she has spare time, she smokes. She carries the image of a cool beauty, but she is also sensitive and quick to switch between these two aspects of her personality. She is a mysterious person who pops up throughout the village leaving warnings and predictions.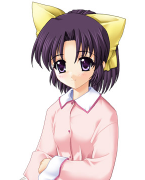 Chitose Inaba
Chitose is Hiroshi's younger sister. She falls in love with Archimedes. She is very courageous and always puts others before herself. Since she is suffering from a serious heart defect, she can't even get out of bed, but she is truly happy to hear that her brother returned to the village.
>